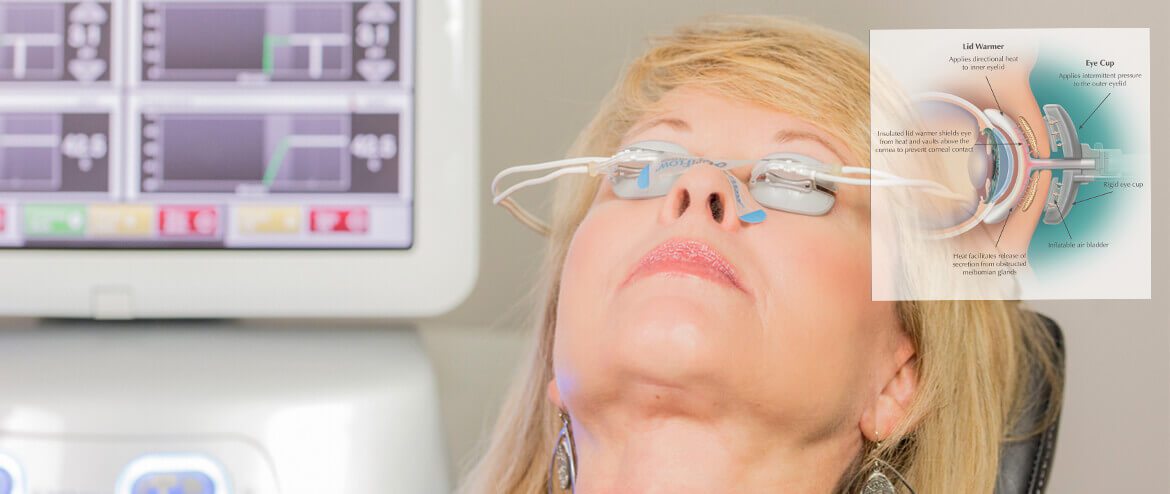 LIPIFLOW
LipiFlow® is a procedure designed to treat the root cause of Evaporative Dry Eye, blocked Meibomian glands. LipiFlow® works by applying directed energy to the eyelid near the affected glands—precisely targeted warmth from the back of the eyelid, and slight pressure from the front.
MEIBOMIAN GLAND DYSFUNCTION
Meibomian Gland Dysfunction (MGD) occurs when there are blockages or structural damage that inhibits the natural production of protective  oils from the meibomian glands located in our eyelids.
This oil protects the watery layer in our tear film, but when these oils are not present, it causes your tears to rapidly evaporate and lose their consistency. Without these oils our eyes become more susceptible to the negative effects that dry climates, air conditioning, computer use, reading and other daily activities can have on the long-term health of our eyes.
Many people with Dry Eye have now been treated with LipiFlow®,   including patients in a multi-center clinical trial. During this trial most (79%) of patients reported improvement in their overall Dry Eye symptoms within four weeks.1
Meibomian Gland Dysfunction (MGD) affects 86% of patients with Dry Eye and it's treatable.
TREATING MGD WITH LIPIFLOW®
Gland blockages can be removed and gland function can be restored with Lipiflow. Through advances in the application of vectored thermal pulsation (VTPTM) technology, the LipiFlow treatment is administered with no pain and minimal discomfort in our consultation room.
EYE HEALTH AFTER LIPIFLOW
The effects of LipiFlow depend on the health of your gland structure and the extent of your MGD. Thus, results may vary with each patient. Some patients may notice results within weeks, while for others, it may take up to 90 days to notice results as the glands naturally begin to generate and expel necessary oil levels needed to properly protect the tear film.
References:
Lane SS, et al. A New System, the LipiFlow, for the Treatment of Meibomian Gland Dysfunction  (MGD). Cornea 1/4/12.